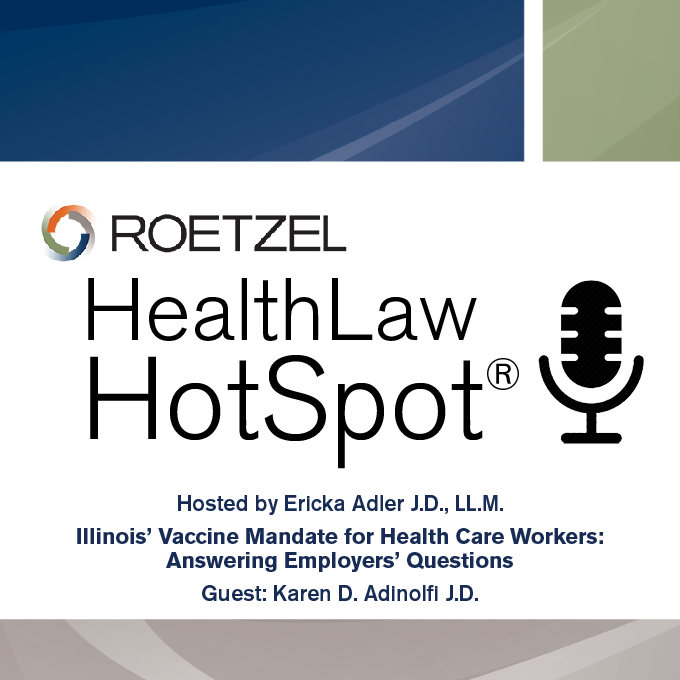 Roetzel HealthLaw HotSpot® is a podcast and YouTube channel for physicians and health professionals that covers the legal issues and trends that affect the health care industry.
On August 26, 2021, Illinois Governor Pritzker signed Executive Order 87, which mandates that Illinois health care workers be vaccinated against COVID-19. In this episode, host Ericka Adler, Roetzel Shareholder and Health Law Practice Group Leader, is joined by Karen Adinolfi, Roetzel Employment Services Shareholder, to provide clarification on common questions that employers may have regarding the mandate. They discuss the deadline for employees to receive their vaccine*, as well as what exemptions would allow an employee to forego the vaccine and provide weekly negative tests instead. They also analyze an employer's liability in several situations when it comes to enforcing the mandate.
*On September 3, 2021, Governor Pritzker revised his Order related to mandatory COVID-19 vaccination of health care workers to extend compliance deadline to September 19, 2021.
To listen, download the episode on Apple Podcasts or click here. To watch the episode on YouTube, click the link below:
Watch Illinois' Vaccine Mandate for Health Care Workers: Answering Employers' Questions
---